Heath Hamby Is Hired as a Credit Analyst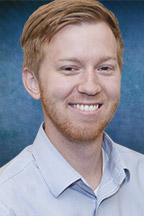 Memphis, Tenn., December 13, 2018 – President and Chief Executive Officer Jim Rout announced Heath Hamby has joined BankTennessee as commercial credit analyst.
"We enjoy working with Heath. His education and analytic background is already a great asset to the lending team, and that knowledge will be beneficial to our customers as we help them achieve their financial goals," said Rout.
When asked his thoughts on his new position, Hamby replied, "I am excited for this new role. My passion lies in helping people make more fiscally-sound decisions, as it not only helps them reach their objectives but it also benefits the community as a whole."
Hamby has accumulated several years of experience in working with consumers as well as a solid background in helping others gain a better understanding of finances. Working as a mortgage loan officer with SunTrust Mortgage from 2016 to 2018, Hamby gained hands-on experience in walking consumers through the task of homeownership. After assisting the buyer, he was responsible for creating mortgage proposals for both new purchases and refinanced homes alike. He was actively involved with teaching others on the importance of financial responsibility through college student unions such as Financial Management Association, University of Tennessee Investment Group, and serving as the investment team chair in the Alpha Kappa Psi business fraternity. Recently he passed the level II exam and is currently a level III candidate of the Chartered Financial Analyst program.
A 2016 graduate of the University of Tennessee at Knoxville, Hamby received a bachelor of science degree in finance, with a concentration in business analytics. Heath and his new bride Jonna were married in May and made Collierville their home.   
Hamby works from the main office in Collierville, Tennessee.
About BankTennessee
 "We take banking personally and are committed to providing a personal level of service where our customers matter. It's a philosophy that has worked for us since our bank was founded in Memphis in 1934, more than 80 years ago. We attribute our success to our personnel and local communities we support," said Jim Rout, chief executive officer and president of the bank."
Headquartered in Collierville, Tennessee, BankTennessee has 8 retail banking offices located in Collierville, East and Downtown Memphis, Germantown, Ripley, Munford, and Lebanon in Middle Tennessee.
As of June 30, 2018, BankTennessee had $283,461,582 in assets. The bank offers a full range of financial products and services including personal and business checking accounts, mobile banking, online banking, mortgages, home equity lines of credit, custom construction loans, commercial and consumer loans, treasury management, remote capture and merchant card services.