Sarah Gregory Hired as a Teller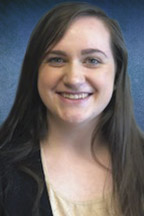 LEBANON, Tenn., January 24, 2019 – BankTennessee President and Chief Executive Officer Jim Rout announced that Sarah Gregory was hired as a teller at the Lebanon branch in 2018.
"We welcome Sarah to our team. With her experience and positive attitude, she has already proven to be a great asset to our customers and the bank," said Brad Houser, the bank's Middle Tennessee president. "She has a great future with us."
Gregory was previously a certified nursing assistant at Elmcroft Senior Living. She earned an associates degree in business communications from Volunteer State Community College.
The Lebanon office is located at 355 South Hartmann Drive.
About BankTennessee
"We take banking personally and are committed to providing a personal level of service where our customers matter. It's a philosophy that has worked for us since our bank was founded in Memphis in 1934, more than 80 years ago. We attribute our success to our personnel and local communities we support," said Rout, chief executive officer and president of the bank.
Headquartered in Collierville, Tennessee, BankTennessee has 8 retail banking offices located in Collierville, East and Downtown Memphis, Germantown, Ripley, Munford, and Lebanon in Middle Tennessee.
As of December 31, 2018, BankTennessee had $303,105,838 in assets. The bank offers a full range of financial products and services including personal and business checking accounts, mobile banking, online banking, mortgages, home equity lines of credit, custom construction loans, commercial and consumer loans, treasury management, remote capture and merchant card services.