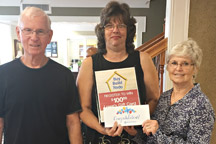 COLLIERVILLE, Tenn., May 29, 2018 – Collierville residents Sandra Woodson and Eve Olszak-Smith won a $100.00 Lowe's gift card from BankTennessee. 
"We recently held a Buy Build Redo Sweepstakes at the bank to promote home loans and are proud to announce that Sandra and Eve entered their names in the registration box at our Collierville branches, and each won a gift card," said Jim Rout, president and chief executive officer at BankTennessee. 
"We are proud to present the gift card to our friend and customer Sandra Woodson and her husband Jim Woodson," said Robyne Earnest, branch manager of the Schilling office. "Collierville is booming, and BankTennessee is helping it grow. From mortgage loans to finance your dream to custom construction loans to build your own home, we strive to give you the best experience because we want to be the bank for you and Collierville."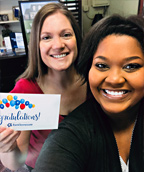 Traci Wright, branch manager at the office on the Collierville Square, presented the winner Eve Olszak-Smith with a $100 gift card. Wright said, "Eve was so excited to win. We appreciate her and her friendship."
BankTennessee in Collierville is located at 1125 West Poplar Avenue at Schilling Farms and 100 West Mulberry on the Historic Collierville Square. The office on Poplar is the headquarters for the bank.
About BankTennessee
 

"We take banking personally and are committed to providing a personal level of service where our customers matter. It's a philosophy that has worked for us since our bank was founded in Memphis in 1934, more than 80 years ago. We attribute our success to our personnel and local communities we support," said Jim Rout, chief executive officer and president of the bank."

Headquartered in Collierville, Tennessee, BankTennessee has 8 retail banking offices located in Collierville, East and Downtown Memphis, Germantown, Ripley, Munford, and Lebanon in Middle Tennessee. 
As of December 31, 2017, BankTennessee had $308,178,832 in assets. The bank offers a full range of financial products and services including personal and business checking accounts, mobile banking, online banking, mortgages, home equity lines of credit, custom construction loans, commercial and consumer loans, treasury management, remote capture and merchant card services.