Randal H. Lankford
Owner, 
Lankford Realty & Lankford Appraisal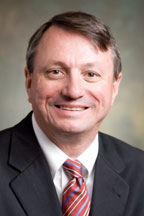 Randy Lankford was one of the founders of our branch in Ripley, Tennessee, which opened in 1997. He was also instrumental in the opening of our branch in Munford, Tennessee in 2012. 
He is a past president of the Lauderdale County Chamber of Commerce along with being the chairman of the Ripley Downtown Development Cooperation which oversaw the redevelopment of the downtown Ripley area.
Randy has been in the real estate business in the Lauderdale County area since 1980. He established Lankford Realty Company in 1982, which makes it the oldest and most experienced real estate firm in the Lauderdale County area. Lankford Realty Company has a full service real estate brokerage that has served Lauderdale and surrounding West Tennessee counties since 1982. He handles a wide variety of properties including residential, commercial, multifamily, lots, new construction, acreage and farms. He also provides services such as exclusive buyers and sellers' representation, appraisal services, relocation and transactions of REO and traditional properties. Randy has also developed several residential subdivisions and commercial areas in West Tennessee.