Brian Lowery Is Promoted to Chief Credit Officer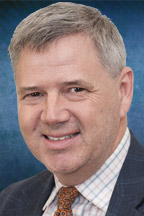 COLLIERVILLE, Tenn., May 9, 2019 – Brian Lowery was recently named chief credit officer and will join the bank's senior management team, announced Jim Rout, president & chief executive officer. He previously served as a commercial loan officer. In his new role, Lowery will assume responsibility for credit risk and policy, special assets, appraisal services and credit approval-related functions for BankTennessee.

"We are pleased to promote Brian as chief credit officer. He has proven to be a skilled lender and effective leader," said Rout. "Brian will play an important role in helping BankTennessee achieve our business objectives and goals."

Lowery brings more than 25 years of credit and risk experience to his position including 2 years as chief credit officer for Highlands Union Bank in Abingdon, Virginia. Before moving to Virginia, he worked in Memphis at Commercial Bank & Trust Company as vice president in the legal banking group and SunTrust as a first vice president in private wealth management. Lowery also served as an adjunct professor at the University of Memphis teaching courses on money and banking, international finance markets and institutions, real estate finance and entrepreneurial finance.

He is a graduate of the University of Mississippi in Oxford with a Bachelor of Business Administration and a concentration in managerial and banking finance. He received a Master of Business Administration in finance at the University of Memphis.

Married to Yvonne Sievert-Lowery, they have five children Justin Lowery, 30, Hannah Lowery, 22, Blake Lowery, 20, Danielle Geronimo, 19, and Denise Geronimo, 15.

About BankTennessee

"We take banking personally and are committed to providing a personal level of service where our customers matter. It's a philosophy that has worked for us since our bank was founded in Memphis in 1934, more than 80 years ago. We attribute our success to our personnel and local communities we support," said Jim Rout, chief executive officer and president of the bank."

Headquartered in Collierville, Tennessee, BankTennessee has 8 retail banking offices located in Collierville, East and Downtown Memphis, Germantown, Ripley, Munford, and Lebanon in Middle Tennessee.

As of December 31, 2018, BankTennessee had $303,105,838 in assets. The bank offers a full range of financial products and services including personal and business checking accounts, mobile banking, online banking, mortgages, home equity lines of credit, custom construction loans, commercial and consumer loans, treasury management, remote capture and merchant card services.