COLLIERVILLE, Tenn., June 29, 2015 – Collierville High School graduate
Kailee Morgan McCaslin
is the 2015 recipient of the Herman Cox Scholarship from BankTennessee. The scholarship named in honor of former Collierville Mayor Herman W. Cox Jr. is based on grade point average, community and school involvement, and attendance all four years at Collierville High School.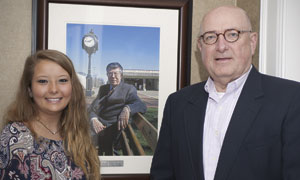 "Kailee fits all of the criteria perfectly. She is a model student and individual. My dad would be proud of her accomplishments and leadership abilities," said Wright Cox, community president of BankTennessee and son of the former Mayor.
Attending the University of Tennessee at Chattanooga this fall, she plans to major in child and family studies.
At Collierville High School, McCaslin excelled in academics and was involved in the school, church and community. She received several honors including the AWANA – Timothy Award. She was also on the principal's honor roll and was a member of the National Honor Society.
McCaslin tutored kindergarten classes at Tara Oaks Elementary and commented, "There was a sign in the kindergarten hall that said 'Presenting the Class of 2027.' It was heartwarming to know that even though I may only tutor them twice a week, I am making a different in these children's lives." She added, "I have a huge heart for children, and to watch them grow in God's love is such an unforgettable experience."
She was squad leader on the band leadership team and a member of the varsity band honors for 4 years and Key Club. McCaslin served as a leader in training for the AWANA program at Collierville Bible Church for 5 years. At Life Church in Collierville, she helped feed 2,000 children in East Memphis who would have gone hungry on the weekends without the help of the church.
Kailee McCaslin is the daughter of Michael and Kris McCaslin of Collierville.
BankTennessee created this scholarship to honor Cox who served as Mayor of the Town of Collierville for 24 years. He dedicated his life to serving his hometown. Known as "The People's Mayor," he led the historic town through many years of growth while focusing heavily on protecting the schools and assuring residents the best quality of life. He also served on the Board of Directors for BankTennessee.
About BankTennessee
"BankTennessee had one of its best years in history in 2014 earning $2.3 million on assets of $269,544,000. We attribute our success to our personnel and local communities we support," said Jim Rout, chief executive officer and president of the bank. "We take banking personally and are committed to providing a personal level of service where our customers matter. It's a philosophy that has worked for us since our bank was founded in Memphis in 1934, more than 80 years ago."
Headquartered in Collierville, Tennessee, BankTennessee has 8 retail banking offices located in Collierville, East and Downtown Memphis, Germantown, Ripley, Munford, and Lebanon in Middle Tennessee.
BankTennessee offers a full range of financial products and services including personal and business checking accounts, internet banking with web bill pay, mortgages, home equity lines of credit, custom construction loans, commercial and consumer loans, treasury management, remote capture and merchant card services.