COLLIERVILLE, Tenn., February 27, 2017 – Jim Rout, president and chief executive officer of BankTennessee, announced the hiring of Austin Smith as a credit analyst. He is responsible for responsible for analyzing and monitoring the credit worthiness of the bank's commercial customers. Reviewing financial statements, tax returns and bank references, he evaluates the financial condition of businesses and their guarantors applying for credit with the bank.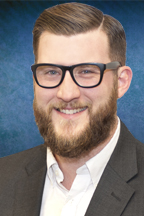 "We are excited to bring Austin on board. With 10 years of banking experience, he has the energy and drive to help us meet our growth goals for 2017 and beyond," said Rout.

"I am excited and thankful about this opportunity with BankTennessee and look forward to becoming part of the family while providing excellent service to our customers," said Smith.

Prior to joining BankTennessee, he was previously a branch supervisor and customer service representative for a bank in Anna, Illinois. Smith is a graduate of the Illinois Bankers Association Future Leaders Alliance and the University of the Cumberlands with a Bachelor of Arts in business management.

A resident of Olive Branch, he is married to Shelby Smith. The couple lives in Olive Branch, Mississippi. 
About BankTennessee
"We take banking personally and are committed to providing a personal level of service where our customers matter. It's a philosophy that has worked for us since our bank was founded in Memphis in 1934, more than 80 years ago. We attribute our success to our personnel and local communities we support," said Jim Rout, chief executive officer and president of the bank. "

Headquartered in Collierville, Tennessee, BankTennessee has 8 retail banking offices located in Collierville, East and Downtown Memphis, Germantown, Ripley, Munford, and Lebanon in Middle Tennessee.

As of December 31, 2016, BankTennessee had $287,973,343 in assets. The bank offers a full range of financial products and services including personal and business checking accounts, mobile banking, online banking, mortgages, home equity lines of credit, custom construction loans, commercial and consumer loans, treasury management, remote capture and merchant card services.