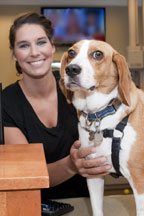 COLLIERVILLE, Tenn., June 29, 2015 – The "dog days of summer" took on a whole new meaning at BankTennessee on Friday, June 26. Canine companions joined bank employees to celebrate the 17th annual Pet Sitters International's Take Your Dog to Work Day.

"We encouraged our employees to bring their dog to work," said Jim Rout, president and chief executive officer of the bank. "It's a wonderful way to share the joys of dog companionship."
About Pet Sitters International
Take Your Dog to Work Day (TYDTWDay®) was first celebrated in 1999. This year marks the 17th annual event. It was created by Pet Sitters International (PSI) to celebrate the great companions dogs make and promote their adoptions. The event encourages employers to experience the joys of pets in the workplace for one day to support their local pet community. It is always celebrated on the Friday following Father's Day. For more information, visit www.takeyourdog.com .
About BankTennessee
"BankTennessee had one of its best years in history in 2014 earning $2.3 million on assets of $269,544,000. We attribute our success to our personnel and local communities we support," said Jim Rout, chief executive officer and president of the bank. "We take banking personally and are committed to providing a personal level of service where our customers matter. It's a philosophy that has worked for us since our bank was founded in Memphis in 1934, more than 80 years ago."
Headquartered in Collierville, Tennessee, BankTennessee has 8 retail banking offices located in Collierville, East and Downtown Memphis, Germantown, Ripley, Munford, and Lebanon in Middle Tennessee.

BankTennessee offers a full range of financial products and services including personal and business checking accounts, internet banking with web bill pay, mortgages, home equity lines of credit, custom construction loans, commercial and consumer loans, treasury management, remote capture and merchant card services.