MUNFORD, Tenn., May 7, 2015 – BankTennessee will host a ribbon cutting at its new branch in Munford on May 21, 2015 at 2:30 pm, announced Bret Whitley, a Tipton County native and the bank's Tri-County president.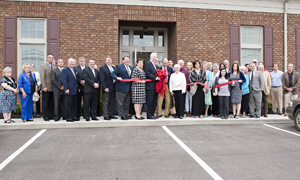 "We have a great location on the corner of Highway 51 South and Munford Avenue. We are right in the heart of South Tipton County and convenient to the majority of Tipton County," said Whitley. "We invite the community to visit our new location and speak with our staff about our great grand opening CD special which is available May 11 through May 29," said Whitley. "We will follow up with a customer appreciation day in June."

"We are pleased to have a local, experienced banking team serving the communities in Tipton, North Shelby and Lauderdale County," added Whitley.

The bankers are residents of the area and include Bret Whitley, Renee Stanfield, branch manager, Deitra Clark, assistant branch manager, Rebecca Johnson customer service representative and loan assistant, Carolyn Locke, teller, and Peggy Welch, teller.

Located on a 1.12-acre site at 26 Munford Avenue, the new BankTennessee branch is 4,860 square feet with elevator access to the second floor and mirrors the design of the BankTennessee branch in Ripley, Tennessee. Hugh Northern is the Architect, and the building contractor is R.L. Coulston & Sons of Covington, Tennessee. The bank was originally located at 13690 Highway 51 South in Atoka, Tennessee.

About BankTennessee
"BankTennessee had one of its best years in history in 2014 earning $2.3 million on assets of $269,544,000. We attribute our success to our personnel and local communities we support," said Jim Rout, chief executive officer and president of the bank. "We take banking personally and are committed to providing a personal level of service where our customers matter. It's a philosophy that has worked for us since our bank was founded in Memphis in 1934, more than 80 years ago."

Headquartered in Collierville, Tennessee, BankTennessee has 8 retail banking offices located in Collierville, East and Downtown Memphis, Germantown, Ripley, Munford, and Lebanon in Middle Tennessee.

BankTennessee offers a full range of financial products and services including personal and business checking accounts, internet banking with web bill pay, mortgages, home equity lines of credit, custom construction loans, commercial and consumer loans, treasury management, remote capture and merchant card services.