MUNFORD, Tenn., October 19, 2015 – "We are proud to announce that Munford resident Cari Dee Dawson has joined our local bank team as vice president and loan officer," announced Jim Rout, president and CEO of BankTennessee.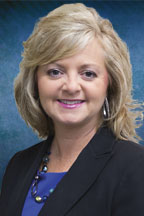 "Local community banking is our foundation. Personally knowing our communities and its residents is important to the financial happiness and security of our customers as well as our bank," added Bret Whitley, Tri-County bank president. "Cari Dee has an outstanding knowledge of the Tipton County markets. Combined with 29 years of banking experience and involvement in many local community and civic organizations, she is already a friend to many and will be an asset to our customers. We look forward to working with her."
Prior to joining BankTennessee, Dawson worked at First Citizens National Bank in Munford and other local banks. Active in the community, she has served on the Celebrate Munford committee, Dyersburg State Fundraising committee, the South Tipton Chamber of Commerce board, and Tipton Relay for Life committee.
A life-long resident of Tipton County, she is a Munford High School graduate and has an associate degree in computer accounting from State Technical Institute of Memphis. Dawson is also a graduate of TOTAL leadership and Dale Carnegie. She is also a licensed life/health insurance agent.

Married to Dewayne Dawson for 24 years, the couple has a Great Pyrenees dog named Sampson.
About BankTennessee
"We take banking personally and are committed to providing a personal level of service where our customers matter. It's a philosophy that has worked for us since our bank was founded in Memphis in 1934, more than 80 years ago. We attribute our success to our personnel and local communities we support," said Jim Rout, chief executive officer and president of the bank. "

Headquartered in Collierville, Tennessee, BankTennessee has 8 retail banking offices located in Collierville, East and Downtown Memphis, Germantown, Ripley, Munford, and Lebanon in Middle Tennessee. 
As of June 30, 2015, BankTennessee had $268,278,000 in assets. BankTennessee offers a full range of financial products and services including personal and business checking accounts, internet banking with web bill pay, mortgages, home equity lines of credit, custom construction loans, commercial and consumer loans, treasury management, remote capture and merchant card services.