COLLIERVILLE, Tenn., April 7, 2016 – Christy Enoch was recently promoted to treasury management officer, announced Jim Rout, BankTennessee president & CEO. She was previously with BankTennessee in the treasury management and deposit operations department since joining the bank in 2013.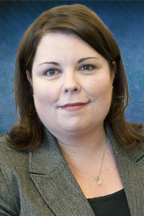 "With her 12 years of experience in retail banking, deposit operations and treasury management, she is a great resource and asset to our business customers," said Rout. "Christy helps businesses take control of their cash flow and streamline their banking practices through the use of our bank's suite of sophisticated technology-based products and services."

"I enjoy working with businesses – both large and small – to help them meet their financial goals. Seeing a business succeed is personally rewarding," said Christy Enoch.

About BankTennessee
"We take banking personally and are committed to providing a personal level of service where our customers matter. It's a philosophy that has worked for us since our bank was founded in Memphis in 1934, more than 80 years ago. We attribute our success to our personnel and local communities we support," said Jim Rout, chief executive officer and president of the bank. "
Headquartered in Collierville, Tennessee, BankTennessee has 8 retail banking offices located in Collierville, East and Downtown Memphis, Germantown, Ripley, Munford, and Lebanon in Middle Tennessee.

As of December 31, 2015, BankTennessee had approximately $278,000,000 in assets. BankTennessee offers a full range of financial products and services including personal and business checking accounts, internet banking with web bill pay, mortgages, home equity lines of credit, custom construction loans, commercial and consumer loans, treasury management, remote capture and merchant card services.


Meet your next Employee of the Year.
Put BankTennessee's EDDY to work and deposit checks from your desktop anytime day or night.
Learn more.
---

Discover how easy merchant card processing can be.
We offer customized solutions for you.
Tell Me More.
---