COLLIERVILLE, Tenn., September 15, 2017 – Collierville High School graduate Meghan Allen is the 2017 recipient of the Herman Cox Scholarship from BankTennessee. The scholarship named in honor of former Collierville Mayor Herman W. Cox Jr. is based on grade point average, community and school involvement, and attendance all four years at Collierville High School.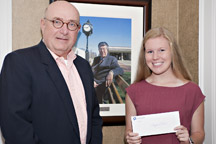 "Meghan fits all of the criteria perfectly. She is a model student and individual. My dad would be proud of her accomplishments and leadership abilities," said Wright Cox, community president of BankTennessee and son of the former mayor. At Collierville High School, Allen was an exceptional student and was involved in the school, church and the community.
Attending the University of Memphis this fall, she plans to study nursing. She said, "Throughout my life, I have always loved to be around others and find a way to help. Helping people brings me joy, and most recently, I have found service opportunities that brought me more than just happiness. Working at my church and leading my cross-country team have helped me grow in more ways than I can imagine. These experiences have and will guide me as I continue my path through higher education and on to a career in nursing." 
Her high school academic and collegiate advisor said Meghan Allen's drive and passion to engage in every facet of life exemplifies a self-discipline that sets her apart from her peers. Her academic accomplishments include graduating cum laude, National Honor Society, Beta Club, and ACT 30 and Above Club. Voted "Best Attitude" and "Scholar Athlete" by her coaches, she is a standout athlete in track and cross country and earned the title of cross country captain in her last two years of school.
Meghan Allen in the daughter of Susan and William Allen of Collierville. 
BankTennessee created this scholarship to honor Cox who served as Mayor of the Town of Collierville for 24 years. He dedicated his life to serving his hometown. Known as "The People's Mayor," he led the historic town through many years of growth while focusing heavily on protecting the schools and assuring residents the best quality of life. He also served on the board of directors for BankTennessee.
About BankTennessee
"We take banking personally and are committed to providing a personal level of service where our customers matter. It's a philosophy that has worked for us since our bank was founded in Memphis in 1934, more than 80 years ago. We attribute our success to our personnel and local communities we support," said Jim Rout, chief executive officer and president of the bank.
Headquartered in Collierville, Tennessee, BankTennessee has 8 retail banking offices located in Collierville, East and Downtown Memphis, Germantown, Ripley, Munford, and Lebanon in Middle Tennessee. 
As of June 30, 2017, BankTennessee had $284,646,822 in assets. The bank offers a full range of financial products and services including personal and business checking accounts, mobile banking, online banking, mortgages, home equity lines of credit, custom construction loans, commercial and consumer loans, treasury management, remote capture and merchant card services.