MUNFORD, Tenn., March 16, 2015 – Originally hired at the Ripley office in BankTennessee, Peggy Welch is now a teller at the new bank office in Munford, announced Jim Rout, bank president & CEO.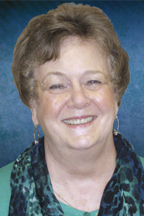 "BankTennessee is proud to have Peggy on our team. With 27 years of experience in the financial services industry, she is highly qualified and is great asset to our bank and customers," said Rout.
"We welcome Peggy to Munford. Our customers appreciate her first class, personal service," added Bret Whitley, Tri-County bank president. 

Born in Covington, Tenn., she has been a resident of the Munford and Brighton areas for more than 50 years. Welch has 2 children, Valita Vinoski of Grandville, Mich., and Kenneth Welch of Millington. She also has 4 grandchildren: John Vinoski, 9; A.J. Vinoski, 6; Kenton Welch, 20, U.S. Navy stationed in San Diego; and, Miranda Welch, 17, a senior at Millington High.

Peggy Welch is a volunteer for Helping Hands Cancer Survivors group and is a member of Oak Grove Baptist Church in Covington.
About BankTennessee
"BankTennessee had one of its best years in history in 2014 earning $2.3 million on assets of $269,544,000. We attribute our success to our personnel and local communities we support," said Jim Rout, chief executive officer and president of the bank. "We take banking personally and are committed to providing a personal level of service where our customers matter. It's a philosophy that has worked for us since our bank was founded in Memphis in 1934, more than 80 years ago."

Headquartered in Collierville, Tennessee, BankTennessee has 8 retail banking offices located in Collierville, East and Downtown Memphis, Germantown, Ripley, Munford, and Lebanon in Middle Tennessee.

BankTennessee offers a full range of financial products and services including personal and business checking accounts, internet banking with web bill pay, mortgages, home equity lines of credit, custom construction loans, commercial and consumer loans, treasury management, remote capture and merchant card services.