MEMPHIS, Tenn., July 28, 2016 – Ron Schneiter joined BankTennessee as vice president and commercial lender, announced Jim Rout, bank president & CEO. Schneiter's responsibilities include building and sustaining relationships with commercial banking customers in the Memphis and Germantown area.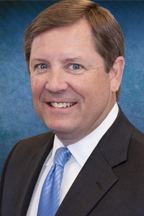 "Ron brings a solid base of commercial lending, business development and leadership experience to the bank. His strong presence and reputation in the area will be a benefit to our bank as well as our present and future commercial loan customers," said Rout. "We are fortunate to have Ron on our team."

He is a graduate of University of Mississippi with a Bachelor of Business Administration in finance and a graduate of Louisiana State University Graduate School of Banking.

Schneiter has been involved with the FedEx St. Jude Golf Tournament for 22 years and is a member of the sales club and seersucker club for leading salesperson.

Married to Laurie Schneiter for 32 years, they have 2 sons Christian, 19, who attends Southern Methodist University and Sloan, 17, a senior at Memphis University School.

About BankTennessee
"We take banking personally and are committed to providing a personal level of service where our customers matter. It's a philosophy that has worked for us since our bank was founded in Memphis in 1934, more than 80 years ago. We attribute our success to our personnel and local communities we support," said Jim Rout, chief executive officer and president of the bank. "

Headquartered in Collierville, Tennessee, BankTennessee has 8 retail banking offices located in Collierville, East and Downtown Memphis, Germantown, Ripley, Munford, and Lebanon in Middle Tennessee.

As of June 30, 2016, BankTennessee had $283,887,000 in assets. BankTennessee offers a full range of financial products and services including personal and business checking accounts, internet banking with web bill pay, mortgages, home equity lines of credit, custom construction loans, commercial and consumer loans, treasury management, remote capture and merchant card services.


Meet your next Employee of the Year.
Put BankTennessee's EDDY to work and deposit checks from your desktop anytime day or night.
Learn more.
---