MEMPHIS, Tenn., December 6, 2017 – Corey Porta was recently hired as assistant vice president and commercial loan officer at BankTennessee, announced Jim Rout, bank president & CEO. He will work out of the Downtown Memphis office.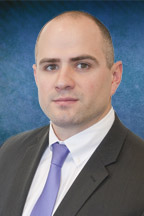 "We are pleased to hire Corey. With his strong lending and deposit building experience, he will be a great asset to our customers and the bank," said Rout. 

Porta has been in the financial services industry for several years and was most previously business relationship manager at Iberia Bank in Memphis and First Advantage Bank in Franklin, Tenn.

He received a Master of Business Administration in finance from Lebanon Valley College in Annville, Penn. Porta is also a graduate of The Southeastern School of Commercial Banking with a concentration in commercial real estate financing.

From 2007 to 2014 he served in the United States Air Force National Guard Force Support Squadron at 193rd Special Operations Wing in Harrisburg and Philadelphia. Porta is a board member for STS Enterprise and chairman's circle member of SoundCheck Young Professionals Council of the Greater Memphis Chamber. He is also a member of the Southaven Chamber of Commerce and the Phoenix Club of Memphis. Porta is assistant youth football coach in Binghampton for the Memphis Gridiron Ministries.

The BankTennessee office in Downtown Memphis is located at 30 North Second at Court Square.

About BankTennessee
"We take banking personally and are committed to providing a personal level of service where our customers matter. It's a philosophy that has worked for us since our bank was founded in Memphis in 1934, more than 80 years ago. We attribute our success to our personnel and local communities we support," said Jim Rout, chief executive officer and president of the bank. "

Headquartered in Collierville, Tennessee, BankTennessee has 8 retail banking offices located in Collierville, East and Downtown Memphis, Germantown, Ripley, Munford, and Lebanon in Middle Tennessee. As of June 30, 2017, BankTennessee had $284,646,822 in assets. The bank offers a full range of financial products and services including personal and business checking accounts, mobile banking, online banking, mortgages, home equity lines of credit, custom construction loans, commercial and consumer loans, treasury management, remote capture and merchant card services.