Dustey Receives Promotion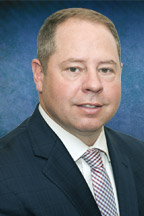 COLLIERVILLE, Tenn., August 18, 2022 – Wright Cox, President and Chief Executive Officer for BankTennessee, announced the promotion of Dustey Walley to Community President. He was previously senior vice president and a commercial lender. In this new role, he will be responsible for leading and growing the East Shelby County market which includes East Memphis, Germantown, and Collierville. He will continue to build relationships and business with commercial customers.
"Dustey's promotion demonstrates our ongoing commitment to the community. He is an exceptional banker and leader with the passion, insight, and expertise to help our customers reach their full potential," said Cox. "We fully expect Dustey to continue to be an asset to our bank and community."
"It's an honor to lead a team of dedicated bankers. I look forward to further growing BankTennessee's capabilities and our brand of superior personal service," said Walley.
An active community volunteer, Walley is a board member of Collierville Education Foundation and a past president of Leadership Collierville. He also volunteers for Operation Barbecue Relief and Steaks for Sheepdogs. Appointed by Governors Phil Bryant and Tate Reeves, Walley serves as a vice chairman for Mississippi Home Corporation.
With BankTennessee since 2018, Walley has worked for various banks in Jackson and Harrison Counties along the Mississippi Gulf Coast.  Over the course of his career, Walley has served as vice president and commercial business banker with Hancock Bank in Ocean Springs, Mississippi, as well as senior vice president, loan officer and mentor with both Community Bank and The First Bank in Coast, Mississippi.
Dustey Walley is also a championship barbecue cook. In 2019, he and his Hometown Barbecue Team won first place in the Memphis in May whole hog division. He is also a Guinness World Record holder for the largest single serving pulled pork sandwich. Weighing in at 2,396 lbs., the pork was donated to soup kitchens along the Mississippi Gulf Coast.
In April, Walley competed in the 12th Annual Chi Chi Miguel Weekend in Destin, Florida. He won the event beating Emeril Lagasse and was a recipient of the People's Choice Award. Aarón Sanchez, an American chef and television personality, was one of the judges. He has also cooked for many notables and elected officials including several Mississippi governors.
Walley earned a Bachelor of Business Administration from Mississippi State University and taught banking classes in high schools on the coast.
A resident of Collierville, Walley is married to Amy. The couple has twin boys Connor and Benjamin Walley. He has two stepchildren Caitlin Rosonet and Corety Catchot. Walley works out of the main office at 1125 West Poplar Avenue in Collierville. 
About BankTennessee
BankTennessee has 10 banking offices. In West Tennessee, there are 7 offices with locations in Collierville, Memphis, Germantown, Ripley, and Munford. The bank also has 3 locations in Middle Tennessee including Lebanon, Carthage, and a loan center in Gallatin.
The retail branches offer a full range of financial products and services including personal and business checking accounts, mobile banking, online banking, mortgages, home equity lines of credit, custom construction loans, commercial and consumer loans, treasury management, remote capture, and merchant card services.
As of June 30, 2022, BankTennessee had $532,829,121 in assets.