BankTennessee Expands Its Digital Footprint with New Hire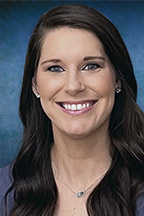 COLLIERVILLE, Tenn., August 18, 2022 – Wright Cox, president and chief executive officer of BankTennessee, announced the hiring of Malea France as digital experience specialist. The newly created position underscores the bank's commitment to elevate the customer experience and continue to deliver innovative services.

"Malea has a wealth of banking experience and will be working together with other staff members to provide an exceptional experience for BankTennessee customers who use our electronic banking products and services," said Cox. "Our "Digital Front Door" is becoming more and more important to our customers and the success of our bank."

"The subsequent need to create, manage, and deliver high-quality digital experiences remains essential. We want to help clients meet their personal and business goals by blending technology with our industry knowledge."

Cox continued, "While we expand more into digital, one thing that will never change is our commitment to personal, community banking. It was the philosophy of our bank when it was founded in 1934, and it remains the same today."

"Seeing people succeed and meet their financial goals is personally rewarding," said France. "It's an honor to be with BankTennessee and to expand the door to digital."

Malea France began her banking career in 2015 at BankTennessee as assistant branch manager. In 2018, she worked at Bank3 as deposit operations and treasury management specialist until returning to BankTennessee in June as digital experience specialist.

Malea France is married Clayton France. They live in Olive Branch, Mississippi and have a son Asher France. She is a member of PeaceTree United Methodist Church and serves as a youth leader.
 
About BankTennessee
BankTennessee has 10 banking offices. In West Tennessee, there are 7 offices with locations in Collierville, Memphis, Germantown, Ripley, and Munford. The bank also has 3 locations in Middle Tennessee including Lebanon, Carthage, and a loan center in Gallatin.

The retail branches offer a full range of financial products and services including personal and business checking accounts, mobile banking, online banking, mortgages, home equity lines of credit, custom construction loans, commercial and consumer loans, treasury management, remote capture, and merchant card services.

As of June 30, 2022, BankTennessee had $532,829,121 in assets. 


Meet your next Employee of the Year.
Put BankTennessee's EDDY to work and deposit checks from your desktop anytime day or night.
Meet EDDY.

You have us in the palm of your hand. 
Check out our mobile banking app and bank on your time.
Go mobile.