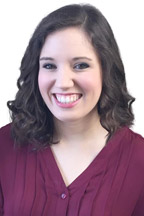 LEBANON, Tenn., September 13, 2017 – Holly Arredondo is now a universal banker at branch in Lebanon, Tennessee announced Brad Houser, Middle Tennessee president for the bank. As a BankTennessee universal banker, she helps build relationships with customers by opening new accounts, any necessary teller work as well as answer any questions. With the bank since February 2016, she was a part time teller prior to her promotion.
"We are excited to promote Holly to this new position for our bank. With her experience and positive attitude, she will continue to be a great asset to our customers and the bank," said Houser. "She has a great future with BankTennessee." 
Arredondo is cum laude graduate of Cumberland University with a bachelor of business administration and a minor in accounting. She was a member of Gamma Beta Phi honors society. She is currently working on a certification in personal training.
A member of Gladeville Baptist Church, Arredondo is a volunteer in the children's ministry and at Compassionate Hands serving the homeless. She is a resident of Lebanon, Tennessee. Her parents are John and Sharon Arredondo.
About BankTennessee
"We take banking personally and are committed to providing a personal level of service where our customers matter. It's a philosophy that has worked for us since our bank was founded in Memphis in 1934, more than 80 years ago. We attribute our success to our personnel and local communities we support," said Jim Rout, chief executive officer and president of the bank. "
Headquartered in Collierville, Tennessee, BankTennessee has 8 retail banking offices located in Collierville, East and Downtown Memphis, Germantown, Ripley, Munford, and Lebanon in Middle Tennessee. 
As of June 30, 2017, BankTennessee had $284,646,822 in assets. The bank offers a full range of financial products and services including personal and business checking accounts, mobile banking, online banking, mortgages, home equity lines of credit, custom construction loans, commercial and consumer loans, treasury management, remote capture and merchant card services.