Jimmy Wieber Is Promoted to Vice President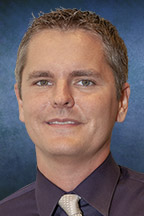 RIPLEY, Tenn., January 24, 2019 – Jim Rout, president and chief executive officer for BankTennessee, announced the promotion of Jimmy Wieber as vice president at the Ripley office. With this promotion, he will continue to serve as the manager and commercial loan officer for the branch.
"We are fortunate to have Jimmy on our team and are pleased to promote him to vice president. With his wealth of experience, positive attitude and strong community involvement, he is a great asset to our customers and bank," said Rout. "We look forward to working with him for many more years."
In 2007, he began his career at BankTennessee as a customer service representative, and in 2010, he received a promotion to assistant branch manager. Involved in the community, Wieber is a graduate of Leadership Lauderdale. He served as president of the Exchange Club as well as was an advisory board member for the Carl Perkins Center and was a member of the Chamber of Commerce Business Development Committee.
A cum laude graduate from the University of Tennessee at Martin, he concentrated his studies in entrepreneurship and received a Bachelor of Business Administration. Wieber also received a certificate of graduation from The Southeastern School of Consumer Credit and is currently finishing his final year in the Barrett School of Banking.
When he is not at the bank, he manages his family's 100-year-old cattle farm. Wieber and his wife Melissa also own and manage a salon in Ripley. The couple has a daughter, Olivia, and is expecting their second child, Luke, in March.
The BankTennessee Ripley office is located at 312 Cleveland Street.
About BankTennessee
"We take banking personally and are committed to providing a personal level of service where our customers matter. It's a philosophy that has worked for us since our bank was founded in Memphis in 1934, more than 80 years ago. We attribute our success to our personnel and local communities we support," said Rout, chief executive officer and president of the bank.
Headquartered in Collierville, Tennessee, BankTennessee has 8 retail banking offices located in Collierville, East and Downtown Memphis, Germantown, Ripley, Munford, and Lebanon in Middle Tennessee.
As of December 31, 2019, BankTennessee had $303,105,838 in assets. The bank offers a full range of financial products and services including personal and business checking accounts, mobile banking, online banking, mortgages, home equity lines of credit, custom construction loans, commercial and consumer loans, treasury management, remote capture and merchant card services.