Larry T. Wilkerson
Senior Partner 
Larry Taylor Wilkerson & Associates, PLLC CPAs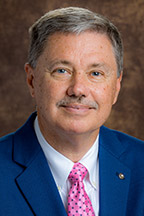 Larry Taylor Wilkerson is a Certified Public Accountant in public practice with Larry Taylor Wilkerson & Associates, PLLC CPAs in Carthage, Tennessee. He serves as Senior Partner and works as a taxation and client services principal. He has been serving middle Tennessee since January 1978. He is a member of the American Institute of Certified Public Accountants and a member of the Tennessee Society of Certified Public Accountants. 


Larry is a former member of the board of directors for Cumberland Bank. He is an investor in many other banks and other companies. Active in the community, he a member and three-time past president of the Carthage Rotary Club, a member of the board and past president of the Smith County Chamber of Commerce, a member of the Riverview Regional Medical Center board of directors, and a past member of the Smith County School Board for 19 years having served 3 terms as chairman of the board.

Larry is an active member and serves as treasurer for Plunketts Creek Missionary Baptist Church.