Michael Nesbitt Joins BankTennessee Commercial/Retail Lending Team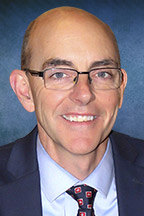 Lebanon, Tenn., January 24, 2019 – President and Chief Executive Officer Jim Rout announced Michael Nesbitt has joined BankTennessee as vice president and commercial and retail lending officer.
"We are confident that Michael will be a tremendous asset to our banking team. With his background in banking and extensive years of community service, Michael will help build strong financial relationships in the 14 counties of the Upper Cumberland Area as well as the Wilson County area," said Rout.
During a discussion about transitioning into this new role, Nesbitt observed, "I am excited for this opportunity, as it not only combines my passion for seeing this area continue to gain strides in economic and industrial development but also my genuine desire to help people."
Nesbitt has over 30 years professional experience within the community. After nearly a decade of success in owning and operating a small auto parts business, Nesbitt transitioned into the banking industry as a branch manager and loan officer with Cumberland Bank in 1995. In this role, he presided over daily branch operations and made both loan and mortgage determinations for consumers and businesses alike. In September of 2002, Nesbitt was elected as mayor for Smith County where he has served his constituents for four consecutive terms. Under his direction and leadership, the county made immense improvements in economic growth and development. Focusing on establishing and continuing responsible spending practices, Nesbitt made careful use of tax payers' dollars as well as millions of dollars in grant funds that were secured under his guidance. Community outreach centers such as the senior, fitness, agricultural, and career centers were established and constructed, as well as judicial structures such as the jail and courthouse. In an attempt to better allocate tax revenue, Nesbitt was able to either refinance debts or complete early payoffs to save tax payers' dollars. Furthermore, citizens benefited from the purchase of new gear and equipment for emergency responders, new patrol cars, ambulance stations, and improved roadways and work equipment all changes brought about during Nesbitt's terms.

In addition to his mayoral role, Nesbitt contributes to the public by serving on various boards throughout the community such as the Carthage Rotary Club, Emmanuel House, and Southside Lion's Club. He is also active in numerous clubs promoting economic growth, overall community health and wellness, and industrial advancement. Throughout the years, Nesbitt has been acknowledged and honored for his many civil accomplishments.

Nesbitt graduated from Smith County High School and attended Tennessee Technological University with a focus on mechanical engineering. A lifelong resident of Smith County, Nesbitt clearly spends a large portion of his time focusing on civil service and propelling the county into a better future. As fruitful as he's been in his endeavors, he readily admits that much of his success is due to the love and support of his wife, 3 children, grandson, and a host of close family and friends.
Nesbitt will be working from our Lebanon, Tennessee location.
About BankTennessee
"We take banking personally and are committed to providing a personal level of service where our customers matter. It's a philosophy that has worked for us since our bank was founded in Memphis in 1934, more than 80 years ago. We attribute our success to our personnel and local communities we support," said Jim Rout, chief executive officer and president of the bank."

Headquartered in Collierville, Tennessee, BankTennessee has 8 retail banking offices located in Collierville, East and Downtown Memphis, Germantown, Ripley, Munford, and Lebanon in Middle Tennessee.

As of December 31, 2018, BankTennessee had $303,105,838 in assets. The bank offers a full range of financial products and services including personal and business checking accounts, mobile banking, online banking, mortgages, home equity lines of credit, custom construction loans, commercial and consumer loans, treasury management, remote capture and merchant card services.