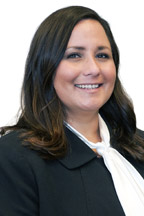 MEMPHIS, Tenn., September 13, 2017 – Nicole Baker Becker joined BankTennessee as a portfolio manager, announced Jim Rout, bank president & chief executive officer. She will work with officers and customers to manage commercial loan portfolios from our Downtown Memphis office.
"Nicole brings outstanding business development, banking and leadership experience to the bank. We are fortunate to have Nicole on our team. She will be a great benefit to our bank and customers," said Rout. 
Prior to joining BankTennessee, Becker was an account executive at the Memphis Business Journal. A graduate of the Paul Barrett School of Banking, she began her career at Union Planters in 2000 as assistant vice president and a management-training specialist. Becker later worked at SouthTrust Bank for 5 years as sales and marketing manager and assistant vice president supervising personnel at 7 branches. Under her leadership, the bank achieved all market and branch sales targets. As a result, she was tapped as leader of the Quality Council representing the Memphis market, a bank program to boost employee morale and advance best practices. Before joining the Memphis Business Journal, Becker worked at two Memphis area law firms. 
A resident of Southaven, Miss., she is president of the Desoto Central High School Basketball Booster Club and is a member of Heartland Church. She has a daughter, Presley, 16.
About BankTennessee
 "We take banking personally and are committed to providing a personal level of service where our customers matter. It's a philosophy that has worked for us since our bank was founded in Memphis in 1934, more than 80 years ago. We attribute our success to our personnel and local communities we support," said Jim Rout, chief executive officer and president of the bank. "
Headquartered in Collierville, Tennessee, BankTennessee has 8 retail banking offices located in Collierville, East and Downtown Memphis, Germantown, Ripley, Munford, and Lebanon in Middle Tennessee. 
As of June 30, 2017, BankTennessee had $284,646,822 in assets. The bank offers a full range of financial products and services including personal and business checking accounts, mobile banking, online banking, mortgages, home equity lines of credit, custom construction loans, commercial and consumer loans, treasury management, remote capture and merchant card services.